BULK MEAT PACKAGES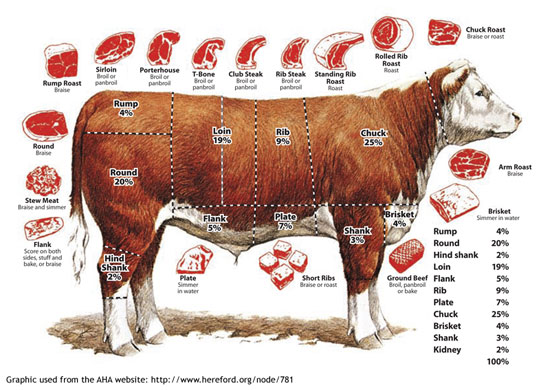 Smith Family Farm meat orders are taken year-round and filled on a first-come first-served basis, according to our processing schedule and availability. Order early for optimum availability. Placing orders in advance will help to reserve the delivery date(s) of your choice.
Deposits are required on all meat packages.
Individual cuts are available in our farm store, open Monday-Saturday, 9-5, or by appointment.
CUSTOM-CUT BULK MEAT PACKAGES
Prices are based on hanging weight for whole and half animals. A whole beef runs around 500 to 700 lbs, a half beef weighs 250-350 lbs before trimming and cutting-priced at $4.50/lb. Whole pigs run 150-200 lbs, half pigs between 75-100 lbs- priced at $4/lb. The cost of curing hams and bacon is additional. Final prices will be based on the actual weight of the animal you receive. Animals will be cut to your specifications. 
Whole Beef – $2,250-3,150
Half Beef – $1,125-1,575
Whole Pig – $600-800
Half Pig – $300-400

OUR BEEF CUT SHEET
To facilitate the cutting of whole and half beef orders at the processing plant, and to assist you in obtaining the cuts of meat you would like, please fill out our Beef Cut Sheet online or download a pdf here and mail it to us. After your deposit has been received and your order confirmed, Harvey will review and finalize your cut sheet with you before your half or whole beef is processed.

WHOLE CHICKENS
Chickens average 4-6 lbs each, and can be purchased in the farm store (according to availability) or by special order. We raise several batches per year during the spring, summer and fall, and are happy to grow the number of birds you would like. Chickens sell for $4.25 per lb, running $17-25.50 for a 4-6 lb. bird. A deposit of $5 per chicken is required.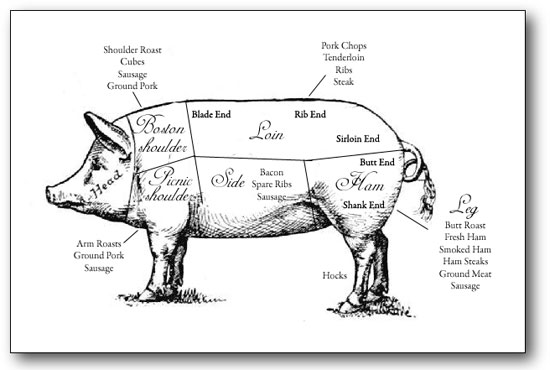 SPECIALTY MEAT PACKS
Final prices of meat packages will be based on actual weight of the individual cuts included, as each will vary slightly. Customized meat packs are also available.
Sampler Pack – $186
Beef: Sirloin steak- 4 lbs; Ground beef-5 lbs; Rump roast- 5 lbs.
Pork: Ground pork- 5 lbs; Maple sugar-cured hickory smoked ham- 2 lbs; Bacon- 1 lb.
Chicken: One 5 lb. bird

Grill Pack – $185
Ground beef- 10 lbs.
Beef short ribs- 5 lbs.
Sirloin kabobs- 5 lbs.
Country-style pork ribs- 5 lbs.
Pork chops- 5 lbs.

Slow-Cooker Pack – $198
Beef pot roast- 5 lbs.
Beef brisket- 5 lbs.
Beef stew meat- 5 lbs.
Beef short ribs- 5 lbs.
Beef soup shanks- 5 lbs.
Pork county-style ribs- 5 lbs.

Breakfast Pack – $97
Maple sugar-cured hickory smoked bacon- 5 lbs.
Pork sausage- 5 lbs.
Sweet Italian sausage- 5 lbs.

Economy Pack – $142
Ground beef- 10 lbs.
Beef stew meat- 5 lbs.
Cube steaks- 5 lbs.
Beef soup shanks- 5 lbs.

Please Note:

Heart, liver and tongue are available and can be substituted for an item of equal value. Just let Harvey know when he calls to confirm your order.
Exact weights will depend on the size of the individual cuts included in your package.
Contents are subject to change depending on availability, any changes would be discussed with you in advance.